The history of HAMMER SPORT AG
The history of HAMMER SPORT AG began over 100 years ago. Familiarize yourself with all of the company's important dates on the time line and click through time:

2012
The successful FINNLO MAXIMUM series is expanded with the addition of hi-tech multi-purpose strength-training stations featuring the highest standards for ergonomics and design. "Functional training" - the new strength-training trend is raised to the premium level with this new equipment series.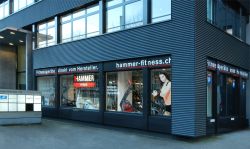 2011
HAMMER HYBRID brand is launched. Combining high-quality components and perfected Panasonic and Bosch electric motors, HAMMER pedelecs ensure maximum riding fun. With their economic energy consumption, electric bikes mean more mobility for young and old alike.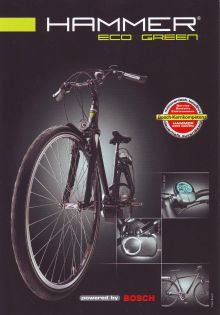 2010
The wellness brand FinnSpa is launched. "Experience well-being" – the caption of the FinnSpa brand describes and represents an exclusive and intelligent range of wellness and well being products. Infrared saunas and relaxing massaging chairs provide perfect recovery after athletic and fitness activities.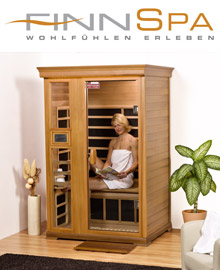 2009
Together with Men's Health, the world's largest men's lifestyle magazine, HAMMER SPORT AG has been bringing you Men's Health POWERTOOLS since 2009. This product line specially tailored to the active, athletic and modern man includes innovative multi-purpose strength-training stations, abdominal trainers and exclusive dumbbell systems. HAMMER SPORT AG is the world's first and only Men's Health licensing partner for fitness equipment.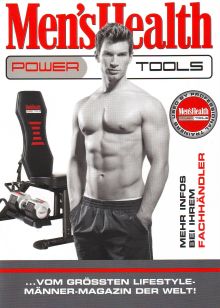 2008
"Experience relaxation – train without stress!" Technology made simple.

HAMMER SPORT develops the "Stressless Computer" for elliptical trainers, stationary bikes and recumbent bikes, which is easy to use and provides all information at a glance. One button = one function. Finally, no more reading complicated computer instructions.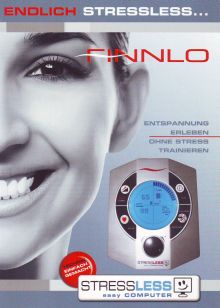 2007
Market launch of the FINNLO strength-training station Bio Force with its unique TNT resistance technology – the strength-training station without weights. Resistance adjustment made quick and easy. Absolutely noiseless training is finally possible.

Articles in the most important consumer magazines such as Bunte, Gala, Men's Health, Fit For Fun, GQ, etc. establish new milestones in FINNLO's success story.

With a rating of "very good" FINNLO Bio Force is the winner in the Men's Health category for strength-training equipment for €1,000.00 and below.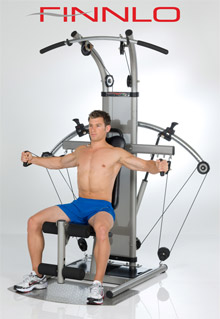 2005
The premium brand FINNLO is launched. FINNLO product lines are distinguished by their especially high standard of quality and exceptional design coupled with a load of functions.

FINNLO offers:

Added value with unique product advantages, training concepts as well as on-site assembly service - everything that the market demands from products of this high standard.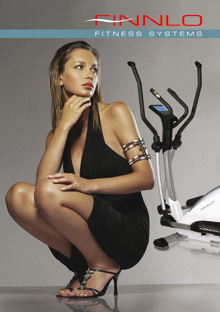 2004
At the ISPO SUMMER 2004 sports tradeshow, HAMMER SPORT AG receives the innovation prize for the patented Nordic Walking treadmill - Nordic walking in tight indoor spaces.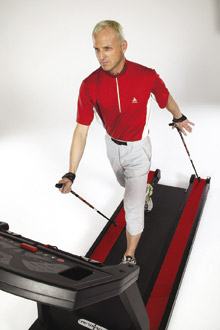 2003
Further innovations follow:

Laptop design on computer, SDS 3D saddle movement for stationary bikes and ergometers - "the first saddle that rides along with you" - as well as high-tech aluminum pedals confirm the company's wealth of ideas. HAMMER's TITANIUM series of products are introduced to the market. Premium cardio and strength-training equipment for upscale fitness standards.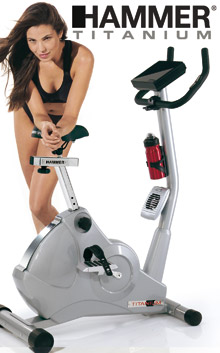 2002
In the wake of the dynamic growth of HAMMER SPORT AG, construction is started on a warehouse and office building on Von-Liebig Street in Neu-Ulm, Germany. Nearly 600 different articles from five sporting goods categories are stored here to optimally supply dealers in 35 countries worldwide.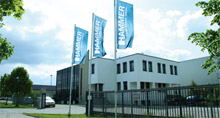 2001
Market launch of TPA fitness equipment. An individual training plan (TPA = Training Plan Assisted) is now created for each piece of HAMMER fitness equipment.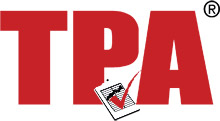 1999
To meet the growth and increased market importance, the company goes public.

Market launch of a new innovative strength-training equipment series with products such as the "Corner Gym" - a gym concept that saves space by 60% - as well as the "Explorer" ergometer with integrated scale.

Latest technology from mountain bike production - a torsionally stiff steel frame made of high quality oval tubing with optimal geometry sets HAMMER further apart in the cardio equipment market.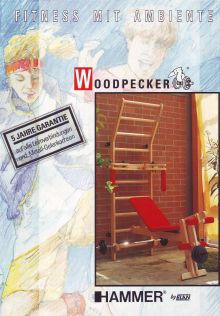 1996
The sales program is expanded with the addition of HAMMER boxing and martial arts accessories. Since the beginning, the full range of products includes 200 different items for entry level and professional users.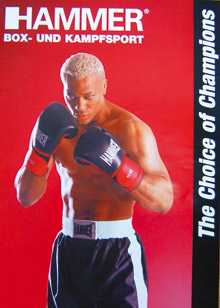 1994
The HAMMER logo contains the caption "Innovative Fitness Design" to reflect the company's innovative strength. HAMMER develops a revolutionary technology for noiseless strength-training with weights. HAMMER Studio 4 sets new standards for home multi-gyms.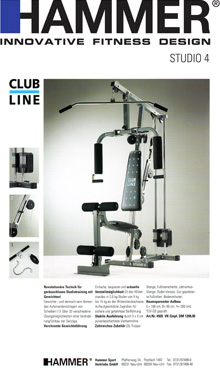 1993
Working with ELAN, HAMMER SPORT develops the "Woodpecker" series of wooden fitness equipment.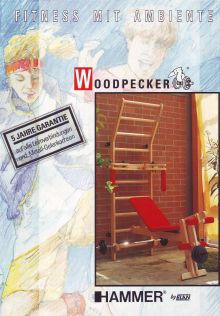 1992
The HAMMER brand, a registered trademark for goods categories 28 (recreational and sports equipment) and 12 (bicycles and bicycle parts) replaces the HAMMER SPORT brand for fitness equipment. The logo is updated and features HAMMER'S typical "block", symbolizing an actual hammer.

Market launch of the equipment series "Club Line - Power meets intelligence" with a modern silver/black look and the first class-A ergometer available in a German sporting goods store.


1990
Additional product developments follow. A patented "on-board computer" for conveniently displaying computer data during rowing movement, strength-training stations employing elastic bands and stationary bikes with integrated sound systems. The "Lifestyle" of the 90s is applied to the look of the equipment and HAMMER SPORT's "Purple series" is successfully sold by all leading department stores. The HAMMER SPORT brand gains notoriety, the company grows and doubles its staff.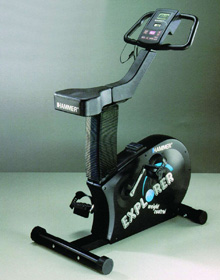 1989
HAMMER SPORT develops a modern and young fitness equipment program. Behind this product range is a variety of innovative ideas, with which HAMMER SPORT gradually secures a leading market position in Germany and other European countries. Among the innovative fitness products the "first hour" is one of the well-known AllTrainer dumbbell, the first fillable, manufactured by blow plastic weight in the world - the Hammer Sport in the fitness industry.

Cardio training equipment such as ergometers, stationary bikes and steppers systematically complete the product assortment. Targeted marketing with the logo caption "Fitness with style" make the HAMMER SPORT brand a household name in the German fitness industry.


1986
Actress Sydne Rome introduces to Europe the "aerobics" trend initiated by Jane Fonda in the United States. HAMMER SPORT and Sydne Rome jointly develop a special dumbbell for aerobic fitness, "aerobic weights".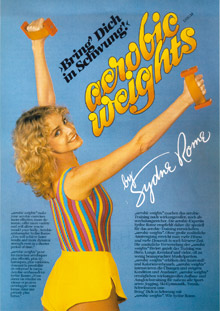 1985
HAMMER SPORT develops a modern and young fitness equipment program. This range of products is backed by a host of innovative ideas that have enabled HAMMER SPORT to step-by-step secure a leading market position in Germany and other European countries. The innovative "early phase" fitness products include the familiar AllTrainer dumbbell, the world's first fillable extruded plastic dumbbell – HAMMER SPORT's entrance into the fitness industry.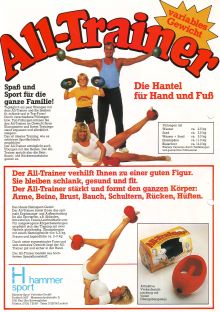 1982
"Erbacher Ski Tuning" with the world-renowned CAT series quickly becomes a term in modern ski production and sets a milestone in modern ski design.

The birth of Hammer Sport, a four-person operation consisting of the founder's grandchild, Günter and his wife Christa Hammer, a sales manager and an office administrator. Headquarters are now in Neu-Ulm.

Hammer Sport acquires the German general distribution of the world-renowned MIKASA balls (supplier for the Olympics, World and European Championships).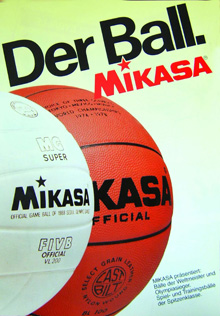 1978
The short ski, also an "erbacher" invention, gets its start, this time in collaboration with Martin Puchtler, a ski instructor from Bavaria's Fichtel Mountains.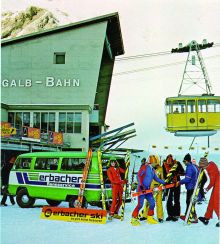 1976
The company unveils an exclusive garden furniture collection at the Sports and Garden Furniture Exhibition "SPOGA" in Cologne.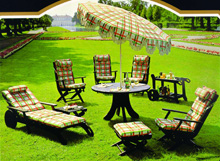 1960
Heidi Biebl wins the gold medal for downhill at Squaw Valley (USA) using "erbacher Grand Prix". Numerous top racers like Vogler and Heckelmiller ski to victory with erbacher skis. The company builds the world's first synthetic ski and was the second company in the world – after Howard Head - to develop and manufacture metal skis.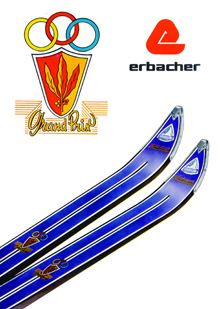 1950
Advanced technology is followed by significant marketing success with skiing and tennis goods: Hanne Nüsslein, world champion tennis pro and Gottfried von Cramm play erbacher Hammer products, the legendary rackets "Spezial-Modell" and "Diplomat".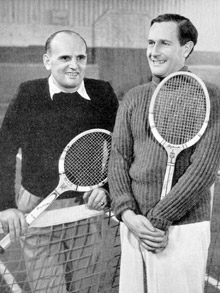 1945
After World War II, the Erbach-based manufacturer becomes the leading German ski producer under the "erbacher" brand through its important innovations.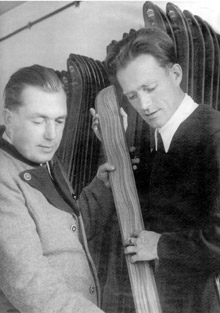 1939
World War II suspends technological advancement.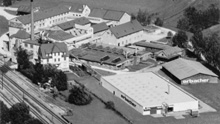 1925
The invention-happy factory owner manufactures glue laminated skis and tennis rackets for the first time.


1910
The company starts production of hay carts and toboggans as well as tennis rackets and skis carved from solid wood and shaped under steam.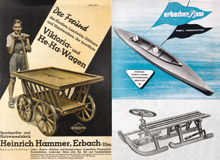 1910
It doesn't stop with the sawmill. The following article in the "Erbacher Zeitung" newspaper appearing on December 10 documents a "pioneering" innovation by Heinrich Hammer:

"A presentation shall be held tomorrow, Sunday, December 18 at 3:15 p.m. in Hirschsaal hall concerning the electrical power station being constructed. After the presentation, lists will be circulated for light and power consumers to subscribe. I ask that you support my company by attending in large numbers and signing. Best regards, Heinrich Hammer."

The following note then appeared in the local news section of the "Erbacher Zeitung" on December 20, 1910:

"Mayor Schmid, who led the meeting, first provided a brief overview of the origin of the current project and asked the numerous residents in attendance to support Mr. Hammer by accepting light and power from his company. Following this presentation, lists for the subscription of consumers were circulated, according to which those present accounted for 44 motors and over 400 lamps, thus ensuring the construction of an electrical power station by Mr. Hammer."

A new era begins: The waterwheel has finally run its course and a Lanz steam engine with a generator now supplies the community of Erbach with electrical power thanks to Heinrich Hammer.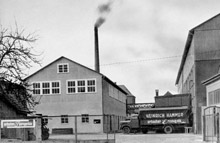 1902
On February 30, the following announcement appears in the "Official Gazette for the District of Erbach":

"Customer saw mill! - Now that my sawmill has been completely retooled and is operating again, I'm now able to cut any quantity of wood in the shortest time and for the lowest price. By ensuring the best service, I look forward to amiable business relationships. Heinrich Hammer, sawmill and tool shaft factory."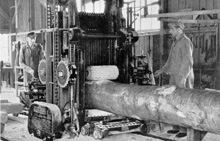 1900
The history of Heinrich Hammer's company starts with a relocation from Bad Mergentheim, where the spirit of invention was thriving. As he arrives in Erbach, his marriage to the daughter of a sawmill owner is also the starting shot for his own company.